Writing is our passion and blogging about our travels is what we've done for years. Browse through our articles and read about the magical places we visit along the Panamerican Highway and what it's like to live on the road. New every Thursday!
---
Travel and Travelers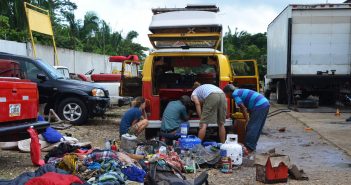 The Consequences of a Flash Flood, Part 3: Here I Am
We had rescued Big Emma from her watery grave in the Sibun River, but now the real work began. Could we save our possessions and our beloved Bus, or had the water destroyed everything? Had we rescued a corpse?